Laser Soldering & Repairs
Cutting Edge Laser Technology At Your Service
Jewelry Laser Soldering and Repairs
Laser technology allows a craftsman to become a perfectionist. Tasks that were once unaffordable, or simply impossible, are now cost-effective and provide a level of accuracy that is astounding.
Our laser lab can repair holes and imperfections, re-tip and assemble complicated pieces with surgical precision, and perform detailing close to diamonds and precious pearls at no-risk. We can even repair precious antique jewellery without manipulating fragile parts, removing settings, or destroying its natural patina.
Eyeglasses repair is a particular capability of our laser technology. We've helped thousands of customers save hundreds of dollars by repairing their broken glasses and sunglasses instead of having to replace them. We can fix your glasses and sunglasses in as little as one hour at our Montreal location or alternatively you can mail your broken glasses to us to be repaired and we'll mail them back repaired.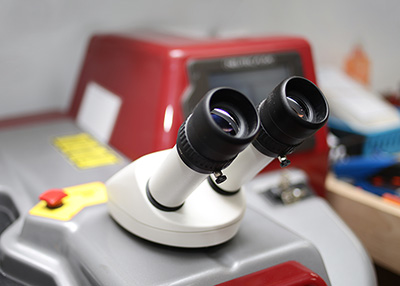 Coulage MD Casting
620 Cathcart, #459
Montreal, Quebec
Canada H3B 1M1
Tel: (514) 875-8038
Opening Hours
Monday:        7AM to 4PM
Tuesday:        7AM to 4PM
Wednesday:  7AM to 4PM
Thursday:      7AM to 4PM
Friday:            7AM to 4PM