Moulding – Anything Is possible when you start with a perfect form
Montreal Jewelry Mold Making
At MD Casting, we pride ourselves in creating solutions that allow your imagination to explore new possibilities. Choose to replicate a best seller, enhance an existing model or mould, or create something never seen before.
We offer the more flexible cold silicone mould in addition to traditional vulcanized moulding services. We blend our own silicone in-house to provide perfect density and form, eliminating flawed moulds and costly repetition, and providing many possibilities and advantages:
We mould to any shape from any material. We can mould over precious stones and fragile treasures. We mould a truer likeness of the original with less hand tooling. We reduce the steps to casting and pass the savings on to you.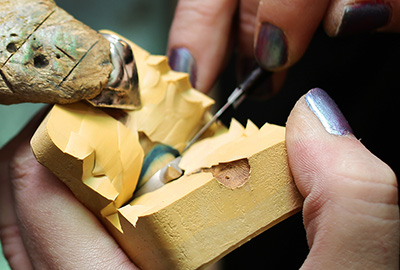 Coulage MD Casting
620 Cathcart, #459
Montreal, Quebec
Canada H3B 1M1
Tel: (514) 875-8038
Opening Hours
Monday:        7AM to 4PM
Tuesday:        7AM to 4PM
Wednesday:  7AM to 4PM
Thursday:      7AM to 4PM
Friday:            7AM to 4PM